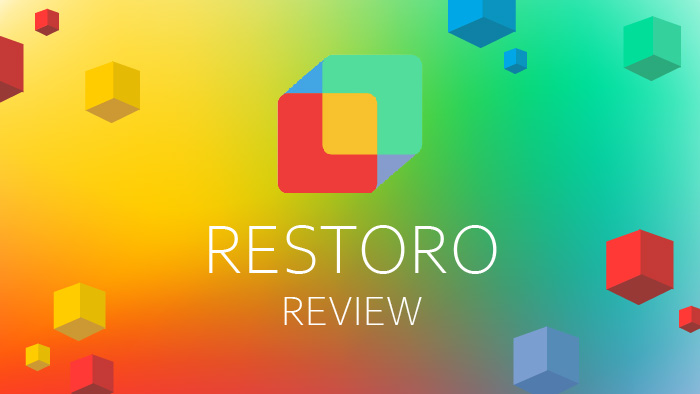 Reimage Inc. was 2007 founded and belongs to the world-renowned umbrella organization Capes Technologies. The company is based in Douglas, the capital of the Isle of Man. In addition, the company operates a research and development center (R&D center) in Tel Aviv, Israel. The Restoro Limited team consists of more than 30 IT professionals and programmers.
The experienced software company has developed a powerful repair tool for Windows under the name Restoro. This fixes not only problems and errors but finds and removes even malicious software from your computer. Thanks to the huge range of functions, several programs are not required on the PC, and users benefit from a powerful all-around solution.
Restoro can free from the Internet downloaded and installed directly on the computer. In the event of problems or questions, users simply write a support ticket and receive an answer within 24 hours. Buyers benefit from a 60-day money-back guarantee.
Restoro Features
User-Friendly Interface
The tune-up software has a modern user interface with a clear design. Restoro is available to users in several languages ​​(including German ) and can also be operated intuitively. The installation is done within a few minutes.
Thanks to the automatic problem scan, users only have to be patient for a short time and see all existing problems. After every program start, Restoro searches for an updated version on the Internet and carries out an update independently.
The optimization software runs exclusively on Windows computers, is quite frugal, and does not require high-performance hardware. This means that the TuneUp software can also be used on older PCs with Windows XP.
Cleaning
After the start, Restoro begins with an analysis and collects information about the PC, the installed hardware, and the operating system. How long the process takes depends on the performance of the computer. PC stability and security are also checked as part of the analysis. Restoro scans all connected drives and takes a close look at the Windows registry. After approx. 5 to 10 minutes, the analysis is completed and the users see a clear summary. Restoro shows the users all existing stability problems, the security threats found and tells them the level of Windows damage.
If users click on the various entries in the menu, they can view detailed information on their computer. Among other things, you will find out whether the existing hardware is sufficient, whether there is malware on the computer and whether the processor or the system is/is getting too hot. With a simple click on "Start Repair" Restoro cleans up the computer and removes all problems/errors found.
For this to work, users must first enter a license key. Users can obtain this from the manufacturer's website. There is either an inexpensive license for a one-time repair or a license for the permanent use of Restoro.
Thanks to the 60-day money-back guarantee, users do not take any risks when making a purchase and get their money back if they don't like it. Restoro cleans up the computer and the operating system, including the registry. All problems and errors are eliminated. The software even finds and removes all malware and repairs all virus damage. Thanks to the effective combination of hard disk, registry, and malware cleaning, users no longer need any additional programs.
TuneUp
Restoro automatically finds and fixes stability problems in Windows and downloads new system files from the Internet. Missing or damaged files are replaced or deleted. All installed programs are carefully examined and optimized by Restoro. Blue screens, crashing or frozen applications are a thing of the past.
The Tune-Up software only receives safe and up-to-date files via secure online storage and these replace all faulty, corrupted, and damaged program parts. The operating system itself and all applications that rely on system files run stably and faster thanks to automatic optimization.
While other tune-up programs "only" fix errors and problems, Restoro also takes care of malware. The software searches all hard drives for malware of any kind and removes them completely from the system. The software also finds and deletes bloatware and scareware. Unwanted toolbars, browser extensions, and other programs cannot cause any damage and no longer slow down the system. If important system files have been infected, Restoro automatically replaces them with healthy files. This will fix all damage and the operating system will run optimally again.
The TuneUp software not only optimizes the operating system and all installed applications, it also takes care of the hardware. For this purpose, Restoro analyzes the main memory, the CPU, and the hard drive and suggests optimization measures. After a few minutes, users find out whether their computer has the latest hardware and is working properly.
In a comprehensive report, users are informed of all important data and can act promptly. Even a damaged Windows can be repaired without great effort, saving users a time-consuming and nerve-wracking reinstallation of the operating system.
Repair Function
While many TuneUp programs either have no or only a marginal recovery function, Restoro can even replace damaged Windows system files with healthy files. Restore's remote database contains current and authentic Windows files. The online database is updated and optimized at regular intervals. This means that the operating system is always up-to-date and runs optimally.
Restoro looks for any existing stability problems, such as program crashes. As a result, the software detects all applications that interfere with proper Windows operation or that make the operating system unstable.
Help & Support
Basically, Restoro is self-explanatory and works almost fully automatically. The users will therefore have no problems with the operation. Nevertheless, friendly customer support is available to users on a daily basis. Customers can simply open an online ticket and describe their problem or question in detail.
In any case, you will receive a friendly and understandable answer within a maximum of 24 hours. So far, support can only be contacted online via the ticket system. Restoro comes from very experienced IT specialists. The official website has a McAfee SECURE certification.
Restoro Price
1-time license – $29.95
1-unlimited use license – $39.95 (1-year support)
3-unlimited license – $59.95 (1-year support)
How To Install Restoro?
Interested users can Restoro free website builder from the early and direct download. The download is started with a simple click. A few moments later, the Restoro installation file has been downloaded. The software installation is started by double-clicking. The setup wizard accompanies the user during the installation. The language is automatically set to German and the installation process can be started with a click of the mouse.
A few minutes later, Restoro is successfully installed and can be started. If desired, the software will automatically check the computer. This option can also be deactivated during the installation. The full scan may take a long time to complete.
Restoro Interface
| | |
| --- | --- |
| Pros | Cons |
| Blue Screen of Death (BSOD) fixer | A lot of detail for rookie users |
| Real-time malware monitoring | May remove other antiviruses |
| Total system space reporter | |
Editors' Review
Restoro clearly stands out from the broad mass of TuneUp software. In detail, it is an advantageous combination of optimization, recovery, and anti-virus software. As a result, users benefit from effective all-round protection and no longer have to worry about problems, errors, performance brakes, weak points, or pests.
Restoro can be downloaded for free and installed in minutes. The software searches and analyzes the computer, the operating system, all installed applications, and even the hardware. With Restoro, damaged, corrupted and infected files can be found, removed or exchanged with little effort. The versatile and sophisticated system repair tool is available at an affordable annual price.